I have been on a journey for the last two and a half years with On the Out. A journey that gave me life, a life that was never my own to begin with, one that was already written for me by my parents, siblings, carers, social workers and doctors. I have spent over 24 years in institutions. From the age of 4 until I was 16, I was in the care of the authorities and placed in about 20 different homes throughout the Northwest. I then went on to spend a further 12 years in the prison system. I came out of each experience with the authorities in a worse state than I was in originally. I had no family, I had no one with whom I could go to because of the way their help expressed itself. I was sexually abused, mentally abused, emotionally abused and then turfed out at 16 homeless with a vague promise from my mother to the authorities that she would look after me.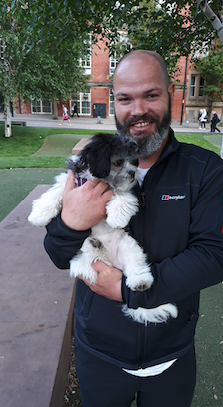 3 days it lasted before it broke down due to my own attitudes towards life but also that my mother and stepdad were addicted to alcohol and were very violent to their children and each other. I was easily led at this stage and my attitude at the time was `no one cares so why should I?`. I was now feeling much more detached from my "FAMILY" and this in turn made me detach even more from society and my surroundings. I went on very quickly to use drugs as a way to self-medicate as all other interventions didn't work for my issues, as you can't stop your own self-hatred based on others` criticisms of me. I was conditioned by these people put in charge of my care. In front of up to 20 people at a time I was told this and that about how I would never be any good, be in jail all my life, never amount to anything. I believed every word they told me because there they are perfect right? I needed to change, I needed to adjust, I need to stop making false allegations about brutality from staff. Everything I did, said and thought was wrong and the people taking care of me were professional were perfect and knew best.
These same people beat me and abused me so you can see maybe why I had so many issues. Their predictions came true but what was it that made me? Their conditioning of me or my own decisions? I'm still not sure. What I am sure of today is that two years ago I came across On the Out as I was suffering from panic attacks trying to reintegrate back into society after another lengthy prison sentence. I asked for help with getting to appointments because of my social anxiety and the difficulties that brought. I was nearly breached on my probation licence agreement with not attending set appointments. I wasn't attending appointments as regularly as I should have due to the severe anxiety public outings caused.
I was met at my home by an On the Out worker who would initially help me find my way to and from probation appointments. They started by coming to my home to meet me one week and the next week meeting me at the bus stop, then meet in town and then eventually they would meet me at probation. After a few weeks of this routine I had enough confidence to make that journey by myself. I made that journey by myself for 18 months after that. I saw what On the Out was doing and for me I could see that these people were like me but in a different kinda way, a way that made me feel like I had something to offer and that I could have real meaning in life  I was supported in other ways too, I got my very first home secured through On the Out. I secured my own job with On the Out. I am now a Company Director and have founded LIFEHAB, supported housing for lads just like me.
Michael Bradley, Director of On the Out, CEO of Lifehab, Development Manager